Video Home Tour: Kim Novak's coastal Carmel retreat asks $12.5 million
July 21, 2021 by admin
Jen Woo Jul 22, 2021
When most of us think of the actress Kim Novak, we picture her glamorous ice-blond chignon and chic Edith Head–designed costumes in Hitchcock's iconic 1958 film Vertigo, which famously also starred locations in San Francisco and the Monterey Peninsula.
In real life, the actress, now 88, found peace and quiet on Carmel's craggy, dramatic coast where her home (from 1961 to 1973) at 170 Spindrift Lane acted as a sanctuary for her to focus on her passions—painting, poetry, and songwriting—as well as unparalleled ocean views from a pair of small stone buildings reminiscent of a fairytale castle.
https://www.youtube.com/embed/ZkR3hUrRf0c?rel=0&enablejsapi=1&enablejsapi=1Inside Kim Novak's $12 5 Million Carmel Homewww.youtube.com
But this home doesn't need a celebrity name behind it to shine. Sitting on two acres of coastline, the 2,000-square-foot, two bedroom residence has floor-to-ceiling windows that allow for ample natural light, views to migrating whales and playful otters, and refreshing sea breezes.
While the exterior evokes medieval times, the interior embodies seaside living with with tranquil blonde wood paneling and rooms designed to maximize access to the outdoors and views.
At the heart of the main house is a rounded living area with soaring, blonde wood-paneled ceilings, slate floors, arched skylight, and windows all around. The dining area is tucked against a stone wall next to the large oval-shaped kitchen with travertine countertops.
Both bedrooms have their own spacious, cliffside decks and other unique characteristics. One has curved walls for a sense of being enveloped by the sea; the other has a wood-burning fireplace and high, exposed beam ceilings.
Outside, there are multiple sitting areas to enjoy the sunshine and salty air.
In its current configuration, the main house includes one bedroom with one-and-a-half baths; the guest house has its own bedroom and bathroom as well as an attached one-car garage. The property is truly enchanting and the two houses are quaint, but planning has already been approved for an addition of a 4,300-square-foot, three-bedroom, three-bath main house for buyers wishing to expand.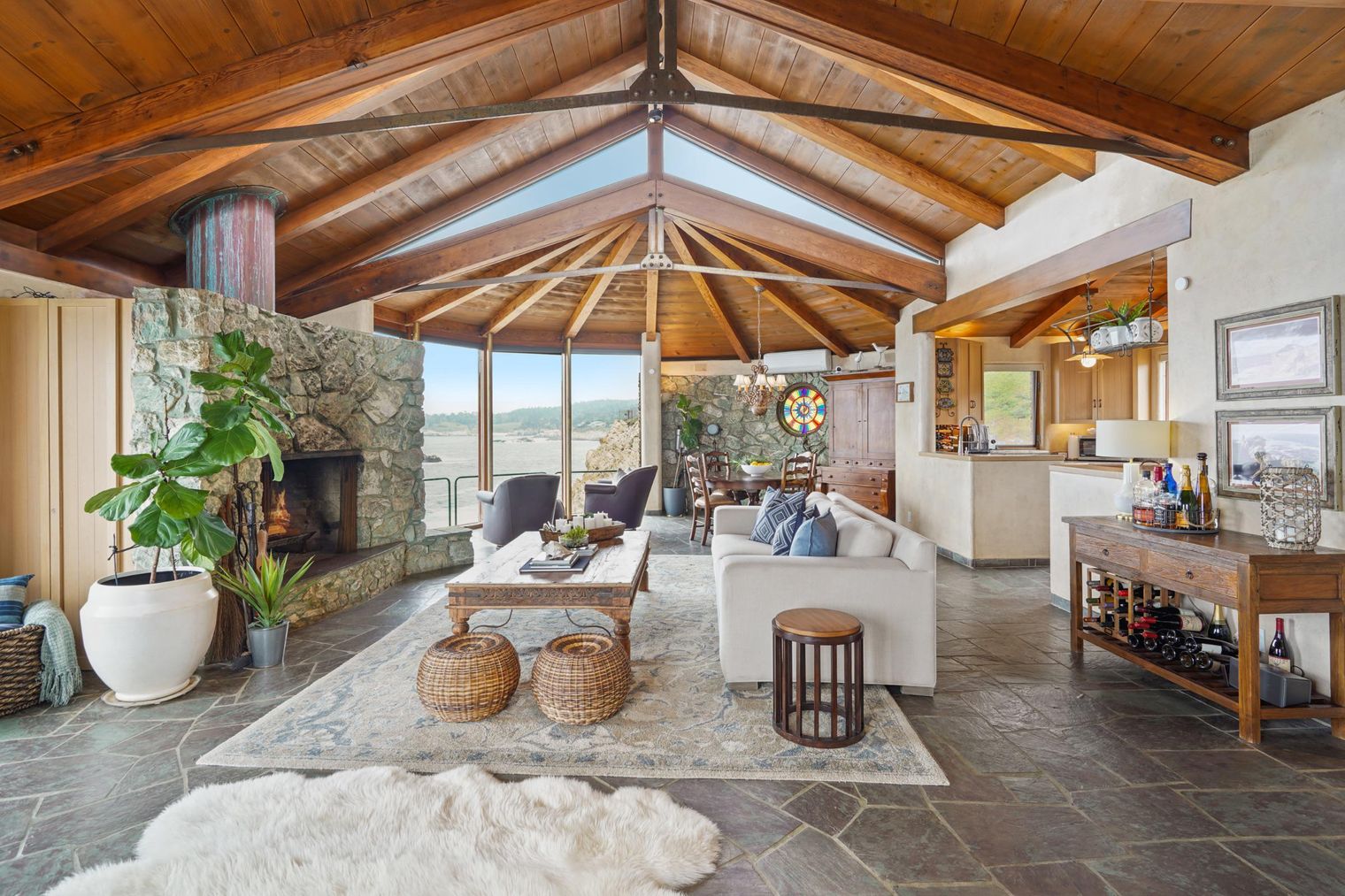 Bedrooms: 2
Bathrooms: 2
Size: 2,070 sq
Asking price: $12,500,000
// 170 Spindrift Lane (Carmel); for more information, visit jonathanspencerproperties.com.
Categorized in: Featured Listings, Norcal