SFBT Thursday Digest: Big gains for Bay Area homes; Google sued in S.F
July 2, 2021 by admin
By Ted Andersen – Digital Editor, San Francisco Business TimesJul 8, 2021 Updated Jul 8, 2021, 8:46am PDT
Good morning, Bay Area. U.S. stock indexes fell on Thursday on worries about the global pandemic recovery as Japan declared a state of emergency in Tokyo ahead of the Olympic Games and banned spectators. In other economic news, U.S. weekly jobless claims unexpectedly rose to 373,000, as job growth now appears to be slowing. And just to round out the bad news factor to start your day, aside from the ongoing Lava Fire in Shasta, a new fire burning in Mendocino County has destroyed one structure and is threatening dozens of others as mandatory evacuations began on Wednesday. Looking around the bay this Thursday morning, here's the rest of the good and bad news — depending on your business perspective.
Real estate gains
Bay Area real estate continued its red-hot trajectory in the second quarter, with this spring's selling season ranking among the strongest quarters ever, according to a new report by Compass Real Estate. All local markets had sizable median house sales price increases with some counties seeing jumps of more than $200,000 in the first half of 2021 compared to 2020. The market comprising seven very affluent communities around Stanford University saw a $400,000 increase in median house price, and San Mateo became the first Bay Area county to hit a quarterly median house sales price over $2 million (currently calculated at $2,065,000 for sales reported by July 5).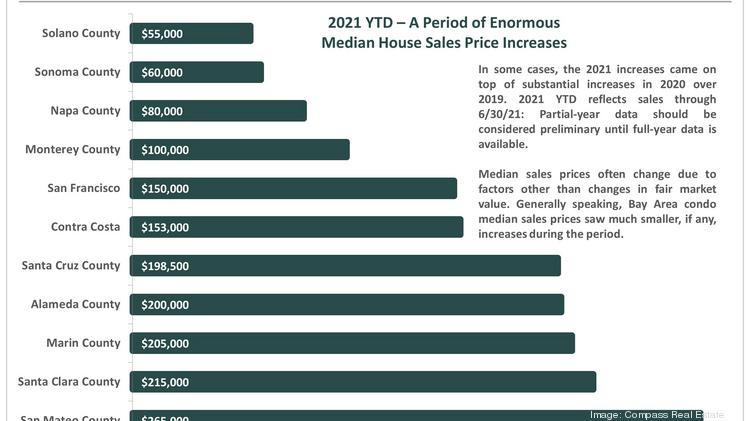 Google sued in S.F.
Google (Nasdaq: GOOGL) has been sued by three dozen states alleging that the company illegally abused its power over the sale and distribution of apps through the Google Play store on mobile devices. State attorneys general said in a complaint filed Wednesday in federal court in San Francisco that Google used anticompetitive tactics to ensure that developers had no choice but to go through the Google Play store to reach users. Google was accused of paying Samsung Electronics Co. to ensure that the Korean company didn't develop its own competing app store. Additionally, the complaint alleges that after Fortnite maker Epic Games Inc. began distributing its app outside of Google's store, Google "bought off" developers to dissuade them from doing the same. (Bloomberg)
UC gifted new dorm
The UC Board of Regents is ready to approve the largest gift ever made to UC Berkeley — $300 million to fund a 14-story, 772-bed dorm across from campus. The Helen Diller Anchor House project, which the Regents will vote on at their July 21-22 meeting, will offer luxurious living conditions never before seen on campus — and won't cost UC Berkeley any money to build. Net revenue from rents will pay for about $2.5 million in scholarships each year for 100 first-generation, lower-income students. Building the project will involve the destruction of two historic structures as well as a 112-year-old rent-controlled building at 1921 Walnut St. About six people, some of whom have lived there for a decade or more, will lose their homes. (Berkeleyside)
No state exodus, says UC survey
California is losing a congressional seat for the first time in history, its population recently dropped for the first time in more than a century, and some high-profile technology companies and billionaires have left the state. Nevertheless, a University of California study released July 7 concludes that there is no evidence of an abnormal increase in residents planning to move away. The analysis of nearly two decades of Franchise Tax Board data demonstrated there has been no significant flight of millionaires away from California despite multiple tax increases levied on higher earners in recent years. However, middle-class Californians making incomes between $50,000 and $100,000 are the most concerned about the state of California today as well as its future, the study concluded. (SVBJ)
The Snowbird special
As the allure of Wyoming and Montana keeps growing in the Bay Area, Alaska Airlines has just announced nonstop winter service from SFO to Jackson Hole and Bozeman. Travelers can find tickets for the new Jackson Hole route for as low as $89. The daily nonstop seasonal service begins Dec. 16, so you have plenty of time if you're a "planner."
M&A Watch
NextEdge Networks, a San Francisco-based portfolio company of Bow River Capital Partners, acquired Tachyon Communication Services, a Roswell, Georgia-based provider of wireless and wireline infrastructure services, from MSouth Equity Partners. (Axios)
Funding Watch
S.F.-based Instawork, a digital marketplace connecting local businesses with qualified professionals, has raised $60 million in Series C financing, bringing total funding to $100 million. Craft Ventures led the round, with participation from Greylock, Corner Ventures, Four River Group, WndrCo, and Tilman Fertitta, owner of Landry's and the Houston Rockets, alongside existing investors Benchmark, Spark Capital, GV, Burst Capital, and SV Angel. Craft General Partner, Jeff Fluhr will also join Instawork's board of directors.
Unit21, a San Francisco-based no-code security platform, raised $34 million in Series B funding. Tiger Global led, and was joined by Iconiq Capital insiders Gradient Ventures, A.Capital and South Park Commons. (Axios)
IPO Watch
Apex Technology Acquisition II, a blank check company targeting software and internet technology, filed on Wednesday with the SEC to raise up to $300 million in an initial public offering. The Burlingame company plans to offer 30 million units at $10 per unit. At the proposed deal size, the company would command a market value of $383 million. Apex Technology Acquisition II is led by co-CEO and CFO Jeff Epstein, an operating partner at Bessemer Venture Partners, and co-CEO and Director Brad Koenig, the co-founder and former CEO of FoodyDirect.com. (News release)
Final thought …
Former President Donald Trump's just-filed First Amendment lawsuit against Twitter, Facebook and YouTube is not likely to be decided in his favor since the case rests on the idea that communication between the tech companies, members of Congress and the federal government somehow transforms Facebook, Twitter and YouTube into "state actors." (TechCrunch)
Speaking of Big Tech, U.S. House Speaker and San Francisco representative Nancy Pelosi's husband, Paul Pelosi, won big on Alphabet Inc. stock and added bets on Amazon.com Inc. and Apple Inc. in the weeks leading up to the House Judiciary Committee's vote on antitrust legislation seeking to limit how these companies organize and offer their products. In a financial disclosure signed by Nancy Pelosi July 2, her husband reported exercising call options to acquire 4,000 shares of Alphabet at a strike price of $1,200. The trade netted him a $4.8 million gain, and it's risen to $5.3 million since then as the shares have jumped. (Bloomberg)
Ranked by Capital under management
Rank
Business Name
Capital Under Management
1
KKR
$367.00 billion
2
TPG
$91.00 billion
3
Silver Lake
$79.00 billion
View This List
WEDNESDAY, JULY 14, 2021
Middle Market 75
Meet Middle Market companies in the Greater Bay AreaRegister now DEADLINE: FRIDAY, JANUARY 7, 2022
© 2021 American City Business Journals. All rights reserved. Use of and/or registration on any portion of this site constitutes acceptance of our User Agreement (updated 1/1/21) and Privacy Policy and Cookie Statement (updated 7/20/21). The material on this site may not be reproduced, distributed, transmitted, cached or otherwise used, except with the prior written permission of American City Business Journals.https://tags.crwdcntrl.net/lt/shared/2/lt.iframe.html?c=3655
Categorized in: Industry News, Norcal