Robin Williams' Former Northern California Home Lists for $7.25M
December 9, 2019 by admin
By Kathryn M. – December 4, 2019
Set on a double lot, the Mediterranean-style home looks out over the widest part of San Francisco Bay.
The Northern California home of late actor and comedian Robin Williams just hit the market. Located about 30 minutes outside of San Francisco in Paradise Cay, the waterfront residence spans 6,517 square feet, comprising six bedrooms and six-and-a-half baths.
The estate of late actor and comedian Robin Williams is located in the private enclave of Marin County's Paradise Cay. Williams reportedly bought the property in 2008 for $4,050,000.
Photo: Jacob Elliott
The free-flowing floor plan seamlessly connects the home's main living spaces, including a recently remodeled kitchen, formal dining area, large family room, and wood-paneled library. Walls of windows look out onto one of the widest points of the Bay, while glass doors provide access to a large rear patio that stretches nearly the full length of the home.
Built in 1987, the Mediterranean residence offers ample tranquility and is just a short drive away from popular Marin County landmarks, including Muir Woods National Monument and Mt Tamalpais State Park. Scroll ahead to see more of the home, currently listed for $7,250,000.
The modernized kitchen features custom cabinetry, along with stainless-steel appliances. A large picture window above the sink frames maritime views.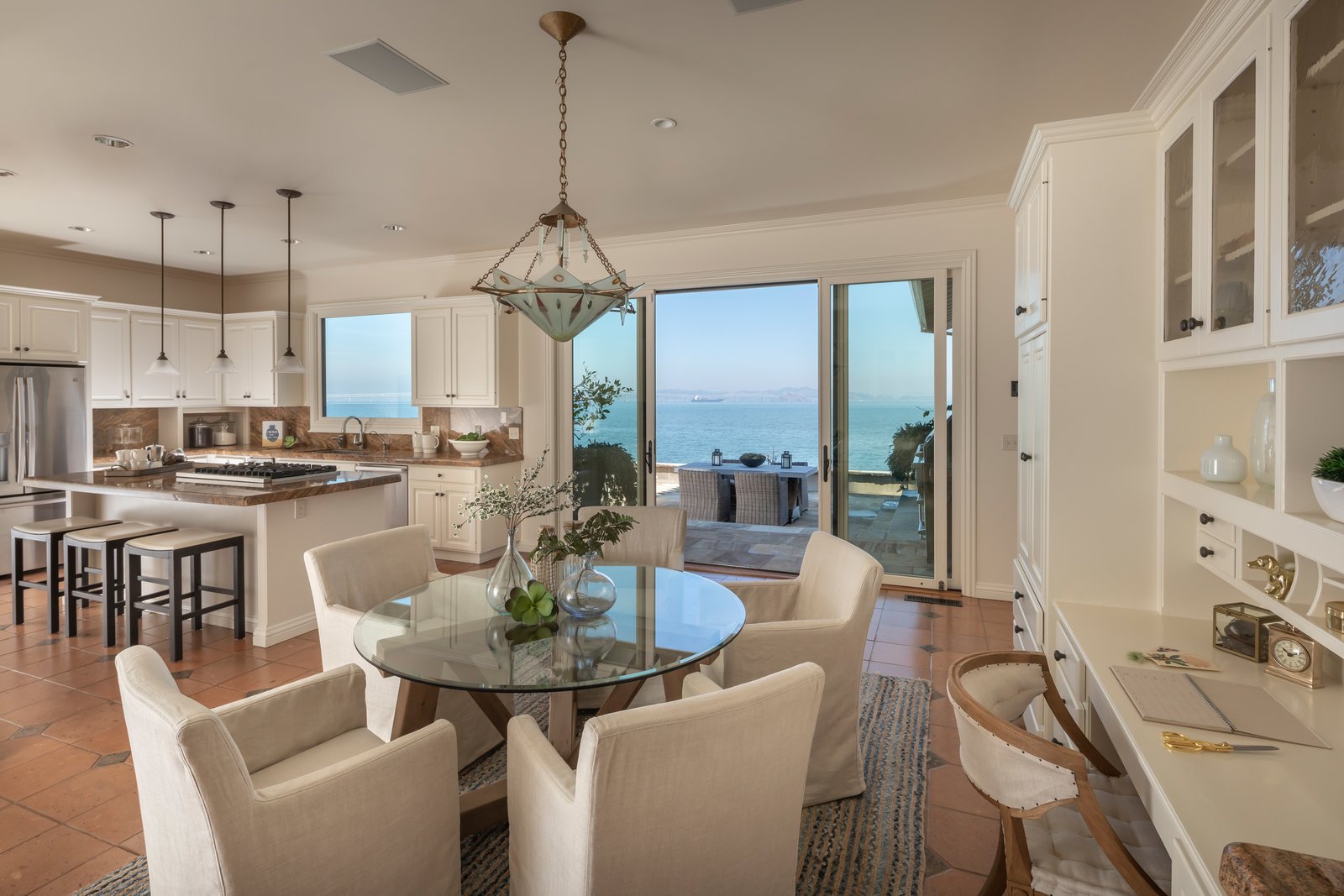 A cozy eating area sits adjacent to the kitchen. Sliding doors lead to the back patio.
A formal dining area is located right off the main living room. Vaulted ceilings enhance the sense of space, while oversized windows overlook the pool.
Anchored by a marble fireplace, the wood-paneled library boasts handcrafted moldings and custom-built shelving. A large wooden desk provides ample workspace.
A look at one of the home's six bedrooms. A built-in window seat offers a cozy place to unwind while also providing extra storage.
In one of the six full baths, a large soaking tub in nestled into an appropriately named bay window.
A plush sectional offers plentiful seating in the cozy family room area.
Natural light pours into the master bedroom, which offers direct access to the back terrace and views of El Campo.
A spacious walk-in closet provides an abundance of storage in the master suite.
Glistening green tiles climb the walls of another one of the six full bathrooms.
Steps away from the water, the back patio provides an incredible setting for entertaining.
95 Saint Thomas Way is currently listed for $7,250,000 by Penny Wright-Mulligan and Haley Wright of Compass.
Categorized in: Featured Listings, Marin