Pair of luxury S.F. homes across from Presidio Wall come online
July 8, 2020 by admin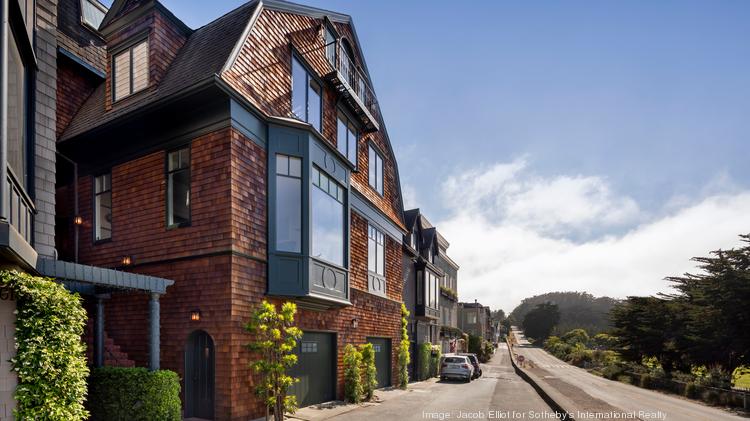 By Ted Andersen – Digital Editor, San Francisco Business Times Jun 29, 2020, 7:42am PDT Updated Jun 29, 2020, 10:07am PDT

Please Sign In and use this article's on page print button to print this article.
Pair of luxury S.F. homes across from Presidio Wall come online
Two Presidio Heights luxury homes less than a block away from each other have come to market at the same.
Situated across from the Presidio on Pacific Avenue, the two homes feature different styles with one boasting a slighting higher price point. The location is right across from Presidio Wall Park, which includes a baseball diamond, playground, tennis courts, basketball court and open green space. The Presidio itself consists of 1,500 acres, 2.3 square miles, and exists as a rare National Park within a city in the United States.
3467 Pacific Ave.
This 6-bedroom, 5-bathroom home was originally built in 1909, and the property was renovated and expanded in 1991 under the direction of Butler Armsden Architects.
A four-level plan features more than 5,600 square feet of living space with an interior that draws on natural light from a three-story staircase atrium. It also features a south-facing garden, formal entertainment rooms, a chef's kitchen, a large garage and views of the Golden Gate Bridge.
The home is priced at $8.9 million. The listing agents are Joseph Lucier and Stacey Caen from Sotheby's International Realty.
Click through the gallery above to see inside.
3555 Pacific Ave.
A hop, skip and a jump down Pacific Avenue and you'll find this 4-bedroom, 5.5-bathroom mid-century home also located across from Presidio Wall.
Past a private front garden and up the staircase, one reaches the entry landing with LED lights illuminating the outside staircase. The landing is also surrounded by walls of glass.
The entry features hardwood floors and faces a curved staircase. To the left of the entry is a sunken living room with large picture windows facing the Presidio and the Golden Gate Bridge. The house also has a wood burning fireplace, recessed lighting and an attached wet bar nook with cabinetry and a sink, as well as entertaining space.
At the back of the home are two bedrooms, both with decks overlooking the garden, sharing a bathroom with a shower over tub, and one of them has a built-in bench along the windows facing the garden. The backyard is landscaped with a winding brick pathway and a BBQ area for outdoor grilling.
Downstairs is a two-car, side-by-side garage, as well as an office area and a ensuite bathroom equipped with a shower.
Wayne Hertzka & William Knowles, architects of 3555 Pacific Avenue, both received master's degrees in architecture from MIT in 1932 and opened their office in San Francisco in 1933. They designed the home for Louis Honig, a principal in the largest independent advertising firm in the West (known as Foote, Cone & Belding/Honig following a merger in 1975). Honig and his wife were well-known art collectors and founded the Honig Vineyard in Napa Valley. In 1985, they sold 3555 Pacific Ave. to the present owners.
The house is listed for $7.5 million and the listing agent is Nina Hatvany of Compass Real Estate.

Ranked by Gross sales volume by Bay Area offices in 2018
Check out our Compass California Blog for more content!
Home Trends | Our Agents | Market Snapshot | Whats Happening
Categorized in: Featured Listings, Norcal