Here's how much this '80s inspired San Mateo County ocean view estate is selling for
July 16, 2021 by admin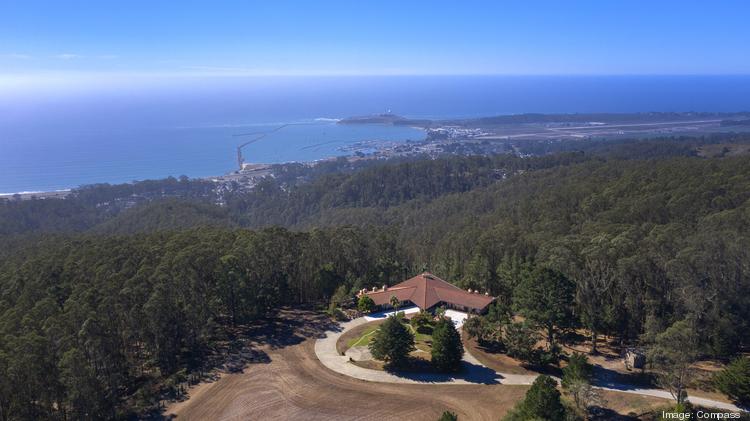 By Ted Andersen  –  Digital Editor, San Francisco Business Times
Jul 16, 2021, 6:10pm EDT
Sitting on more than 20 acres of land above the enclave of El Granada in San Mateo County, lies a 1980s-era mansion like no other.
This unique property overlooks the Pacific Ocean, Princeton Harbor and Mavericks' legendary surf break. With 180 degree vistas, the 23,860-square-foot home featured every luxury when it was built in 1984.
A gated entry opens to a paved drive with remarkable scenery, past the helicopter pad to the drive through entry paved with over 7,000-square-feet of Danish tiles.
The centerpiece is a three-story chandelier of 3,000 blue-centered clear crystals hanging near the fish shaped swimming pool on the lower level. The house has a cruise-ship feel with its luxuriously red staircase and the open glass elevator connecting the floors. A circular dining table also turns, allowing each guest views of the ocean and protected forest below.
Custom throughout is the use of purpleheart (Peltogyne porphyrocardia) wood for railings, doors, kitchen cabinets and tables.
Meanwhile, the main suite is a home unto itself and includes a reception area, conference room and study. Eight en-suite bedrooms divide the spacious family room on the 2nd level.
A contractor built the home for his family and it was purchased by another family of builders in San Francisco in the 1990s. Now the property ready for a creative 21st century buyer.
The home is listed by Compass agent Patrick J. Ryan for $15 million.
Click through the slideshow above to see inside this one-of-a-kind Peninsula estate at 800 El Granada Blvd.
Categorized in: Featured Listings, Norcal