An Impeccable Midcentury Compound in the Berkeley Hills Wants $3.4M
August 3, 2020 by admin
The main residence and one-bedroom guesthouse abut the forests of Tilden Park.
Perched above the woods of Tilden Park in Berkeley, California, a recently listed compound comprises a 1954 main residence and detached guesthouse. The property's acre of lush gardens offers a quiet and conveniently located city retreat.
Inside the main house, period details include tongue-and-groove wood, exposed beams, brick fireplaces, and expansive windows along the rear facade. Public and private areas are differentiated by different levels with the living room, dining area, and kitchen at the front of the home and three bedrooms toward the back. In the living room, vaulted ceilings and wall-to-wall glass overlooks the manicured lawn.
The main house offers an updated kitchen, as well as three bedrooms and two-and-a-half baths. The spacious master suite comes with a private deck, which adds to the property's numerous patios. An unfinished basement offers another half bath, as well as an additional 221 square feet of flexible space.
Outside, a series of stone-and-concrete steps lead from the main residence down to the detached guesthouse. The similarly designed structure features its own living area, kitchen, and bedroom, all of which open to the surrounding gardens. Keep scrolling to see more of the entire property, currently on the market for $3,450,000.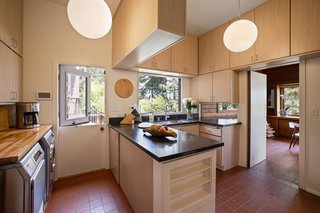 636 Wildcat Canyon Road in Berkeley, California, is currently listed for $3,450,000 by Bebe McRae of The Grubb Co., Inc.
Know of a home for sale or rent that should be featured on Dwell.com? Find out how to submit to Dwell.SaveShareResponses (1)
Categorized in: Featured Listings, Norcal